For those too young to remember, years ago the words "college" and "university" meant institutions of higher learning; physical structures with buildings, classrooms and professors. You attended these mostly four years schools in the hopes of acquiring the knowledge necessary for becoming a thinking, responsible member of society.
Today the words have no meaning. What used to be called beauty schools are now "colleges" and auto mechanic schools are called "universities."
If you Google "cheap college degrees and diplomas," you will come up with 195,000,000 search results. You'll find sites offering college degrees in seven days. One website, instantdegrees.com, offers a degree in 24hrs! And the best part? You can get one of these "diplomas" with "No Attendance. No Study or Testing. No Exams." All you need is life experience… and money.
Donald Trump established Trump University in New York on May 23, 2005. Students were lured into taking a free introductory course, and then signed-up for three-day seminars at a cost of $1,495. They were then encouraged to buy advanced training programs for about $35,000.
When Trump University was founded, the New York State Education Department warned that it was in violation of state law for operating without a license. Trump ignored the warnings until 2010 when the "university" changed its name to the Trump Entrepreneur Initiative.
Three class action lawsuits are currently pending against Trump and his now-defunct school: one in New York and two in California. The billionaire is accused of misleading thousands of "students" who allege that the materials, seminars, and mentoring programs they paid for ultimately provided little-to-no value.
Prosecutors have labeled the educational enterprise, which closed in 2010, "a scam"; a "classic bait-and-switch scheme," in the words of Eric Schneiderman, New York Attorney General.
On Super Tuesday primary day, Trump got some great news and some not so great news. The good news was that he won a majority of the state primaries. The bad news is that a New York appeals court gave the green light to the civil fraud lawsuit filed against the GOP front-runner and his Trump University.
Trump has sought to dismiss the lawsuits against him as bogus. In true Trumpian fashion, he accused a judge presiding over one of the cases as biased because he is Hispanic.
"I could've settled this suit numerous times," Trump has said. "Could settle it now. But I don't like settling suits."
If Trump goes on to do well in the upcoming primaries and secures enough delegates to be the Republican presidential nominee, look for Trump to settle "these little lawsuits" in a New York minute. After all, he is only being sued for $40 million in New York; pocket change for a multi-billionaire like Trump.
Will these fraud lawsuits against Trump and his university hurt him with his loyal supporters? Fuggetaboutit!
Students who signed up for Trump's fake university are not completely blameless. Who in his right mind would pay $35,000 to learn Trump's secrets about real estate investing? Information that some have said is available on Zillow!
Students should have known Trump University was not a real school but a scam. Have you ever heard of a university with no sports team, no team mascot and no cheerleaders?
Photo | money.cnn.com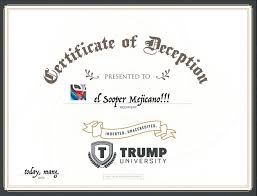 therightscoop.com