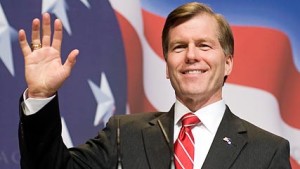 Equal justice under law is a phrase engraved on the front of the Supreme Court building in our nation's capital. The words are a paraphrase of an expression coined in 1891 by the Supreme Court in the case Caldwell v. Texas. Chief Justice Melville Fuller wrote on behalf of a unanimous Court as follows, regarding the Fourteenth Amendment: "the powers of the States in dealing with crime within their borders are not limited, but no State can deprive particular persons or classes of persons of equal and impartial justice under the law."
Today comes news that the lofty words proudly displayed on the Supreme Court building's facade are just that: a facade, a societal ideal, at best.
The conservative Supreme Court of Chief Justice Roberts has agreed to hear the appeal of disgraced former Virginia Governor, Bob McDonnell (R). You may recall this was the man who was convicted on 11 counts of corruption under various statutes criminalizing improper "official action" taken on behalf of someone in exchange for political favors. You know, plain old bribery.
An appeals court upheld McDonnell's convictions but his lawyers are now arguing the appeals court's interpretation of what "official action" means is too broad and risks granting federal authorities too much power to go after "ordinary politics" (i.e. normal political corruption!)
It is akin to the old defense of saying to a police officer who pulls you over for speeding, "But officer, everyone was speeding. I was just keeping up with the traffic!"
The Supreme Court justices, strong defenders of states rights, are weighing in to potentially override the findings of a state court. Just as they did in Bush v. Gore.
While most convicts file an appeal while serving their time, McDonnell has yet to see the inside of a prison. In August 2015, the justices granted him an "extraordinary reprieve from prison" (get out of jail free card) – something that is rarely done.
Yes, the well-connected, well-backed McDonnell has hit the jackpot. He is a handsome white criminal with lots of money backing him up.
There is no good reason for the Supreme Court to hear this case other than to let Governor "Gifty" escape equal justice under the law. Don't be surprised if the Court overturns his conviction.
Yet another perfect example that the concept of "equal justice under the law" is nothing but a nice platitude, signifying nothing. We as a nation, no doubt, have the best justice money can buy.
Photo | nomblog.com